Preclinical Departments Celebrate Progress at the 5th Gala Night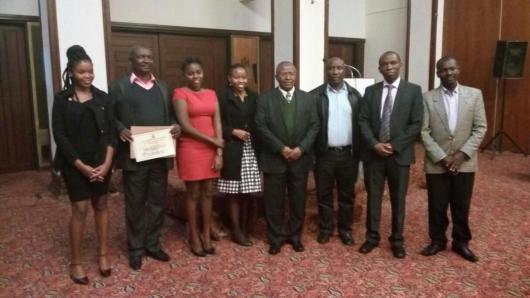 The fifth preclinical departments Gala Night and Dinner Dance was held on 14th July 2016 at the Laico Regency, Nairobi. The Principal college of Health Sciences, Prof. Isaac Kibwage was the guest of honor. In attendance were Prof. Julius Ogeng'o the Director CESSP, The Associate Dean preclinical Departments Prof. Hassan Saidi, chairmen of the department of Human Anatomy, Medical Physiology and Biochemistry, External Examiners Dr. Afashali Russa and Dr. Erisa Mwaka, members of teaching and non-teaching staff from the three departments. During this event, members of staff were awarded for their outstanding performance during the ending academic year. Nominees for the department of Human Anatomy included;
A. Outstanding teacher and student support
Dr. Anne Naipanoi Pulei
Dr. Pulei is an exceptional member of staff who:- Is always cheerful and passionate about her work, supervises the duties assigned by the chairman of the Department without prompting, regularly available for student mentorship, effectively acts as a class coordinator of any group when called upon and readily performs extra duties assigned by the chairman, relates well socially with all members of the department and very sensitive to their needs, is able to identify a problem affecting the students and tries to solve them in good time. She is a co class coordinator of BSc Anatomy programme, currently trying to finish her MMed (Obs/Gyn) while working on her PhD proposal. She is a firm believer in good morals and a champion of fair play plus justice in everyday life.
B. Excellence in technical work and professional development
Judith Wangari Machira
Judy, is an experienced, Senior Laboratory Technologist who graduated recently with a Bsc (Medical Laboratory Sciences). She very disciplined and completes tasks assigned without prompting. She is very patient and a keen listener who is readily available for the students and academic staff. Gets along well with everyone. Judy is respectful, humble, hardworking Technician who readily takes and performs extra duties assigned by the chairman or academic staff. She has shown enviable leadership qualities which has enabled her to quickly identify and offer solutions to any problem affecting the students or academic staff.
C. Excellence in service provision
Geoffrey Onchweri Aosa
Mr. Aosa has served as the Departmental driver for 2 1/2years. He Is polite with very good interpersonal relationship and holds no grudges, maintains cleanliness of his office, makes timely reports on the vehicle problems. He is very courteous on the roads, and always positive and cheerful about his work.
D. Excellence Award nomination in Scholarship, research and student supervision.
Dr Paul Odula
Paul O. Odula is a Senior Lecturer in the Department of Human anatomy who graduated with a PhD in Human Anatomy on December 2015 and an MMed in General surgery in 1999. He has supervised several groups of surgeons and Msc/ Bsc (anatomy) in their research work since 2004. Since 2015 he has supervised 4 BSc students and 1 MSc student to completion. Dr. Odula has 34 peer reviewed articles published in reputable regional and international journals, including Journal of Clinical Anatomy, Journal of Morphological Sciences, Anatomy Journal of Africa, The Annals of African Surgery and East Central African Journal of Surgery. He has published 6 peer reviewed anatomical articles and presented papers in various conferences since 2015. In addition, he is also a peer reviewer for The Journal of Clinical Anatomy, Annals of Anatomy, Annals of African Surgery and Anatomy Journal of Africa. He is currently the Coordinator of MSc Anatomy class and the Vice Chair of the newly inaugurated 'School of Medicine Mentorship Strategic planning advisory committee'.